International Partnerships: Rosa Elena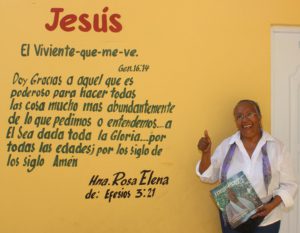 For the many people who knew her, the memory of Rosa Elena lives on.  Dark-skinned, turbaned elegantly, and dressed in flowing white, she often pointed one thumb heavenward.  It was her signature gesture as she deflected all the glory to God. Rosa Elena inspired everyone with her amazing faith and her dedication to the forgotten, yet priceless to God, children of Hatillo—chained by ignorance, generational poverty, and immorality.
Shortly after she opened her heart to Christ, God gave her a passion for these children living in the Hatillo area.  Their location and poverty isolated them without access to education, without knowledge of God's love, without hope for the future. Rosa Elena began educating 7 children in 1996, and labored faithfully with minimal resources for 10 years.
When STCH Ministries began to partner with the school in 2007, a former graduated student recounted, "We had to break a crayon in four pieces to share!"  In 2012, STCH Ministries received significant funding for this project.  With the help of partnering churches they replaced the deteriorating wooden buildings with new concrete structures.  The school grew to over 100 students.
Unexpectedly, Rosa Elena's health began to deteriorate and on September 26, 2016 she passed away.  A crisis developed as the school struggled with decreasing attendance, teacher resignations, and financial stress.  STCH Ministries staff and donors, along with the IBQ church staff and a newly formed board, stepped up their support. New staff was trained, salaries were increased, additional investments were made in uniforms, computers, and other equipment. Gradually the school stabilized and began to grow. Today, the goals for the future of Rosa Elena's school are excellence with self-sustainability.
Since the time Rosa Elena began to educate children and share the hope of the Gospel, many years have passed and countless children have been impacted.  "La Gloria a Dios," was Rosa Elena's refrain, as she pointed with her thumb to the skies.  Two years ago Rosa Elena left our planet to reside in that Glory-land to which she often pointed.
https://www.stchm.org/wp-content/uploads/DSC_3739-crop.jpg
1826
2560
International
https://www.stchm.org/wp-content/uploads/2020/02/header-stchm-logo.svg
International
2018-09-26 09:00:26
2020-03-16 15:11:22
International Partnerships: Rosa Elena