Providing Hope and Direction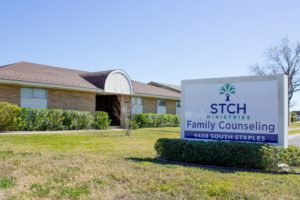 STCH Ministries Family Counseling provides hope and direction for individuals, couples, children, and families when they need help sorting through the challenges of life. Kelly Harris, a therapist serving in Corpus Christi, shares with us how God is granting freedom to a client.
I received a note from a client today who has been working with me for just a few sessions now. She wrote, "As you erased those items (from the whiteboard) and talked, it literally felt like you were erasing them from my life. It felt so freeing!" Of course, I had no idea of the impact of that moment, but He did and in this instance, I received a note to let me know.
What a great reminder that I need not offer anything profound as I work with those I serve. Sometimes it's the smallest action that God uses to touch and change the hearts of people.
The second reminder is that this is His work, not mine! Praise God for the freedom He wants His people to have in our Lord Jesus Christ!
At the time of this writing, our Family Counseling ministry consists of four counseling hubs with seventeen offices operating, for the most part, out of partner churches in each area. Corpus Christi was the original office hub. Earlier this year, this center added a new counseling location and a new therapist to their roster. Kelly came on part time in February 2018 and began serving one day each week in the satellite offices inside Yorktown Baptist Church and Coastal Oaks Church in Rockport.
The response to having a licensed counselor in these two locations has been impressive. In just six months, Kelly's agenda filled up and by July she transitioned to a full-time schedule, adding an extra day to each location as well as seeing clients in the main Corpus Christi office. Those extra days soon filled with regular clients and both the Yorktown and Rockport locations now have a waiting list.
STCH Family Counseling therapists are professionally trained and offer counseling that is clinically excellent and distinctively Christian. Counseling services are provided regardless of an individual or family's ability to pay for them. Donations toward services are accepted and appreciated. Learn more at www.STCHM.org/FC.
https://www.stchm.org/wp-content/uploads/Corpus-office-1.jpg
1333
2000
Family Counseling
https://www.stchm.org/wp-content/uploads/2020/02/header-stchm-logo.svg
Family Counseling
2018-10-04 17:16:20
2020-03-16 15:15:37
Providing Hope and Direction