Ladies for the Least Special Project Nearing Completion
Ladies for the Least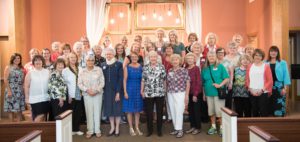 is a giving society of women who are passionate about impacting children and families in need, those who are among the least. The group raises money for special projects directly benefitting STCH Ministries, projects which are not included in the ministry's general operating budget.
In April 2018, Ladies for the Least members voted to fund a project at Boothe Campus to revitalize recreational zones and repurpose an underutilized building. The work of the project includes:
Renovation of the old library into transitional apartments
Creation of a prayer garden and fire pit
Renewal of recreational areas for residents and visitors
As a result of the Ladies for the Least vote, the two playgrounds and the basketball court on Boothe Campus have already been enriched with new seating areas and additional safety mulch. A second part of the project will create a prayer garden and fire pit, providing a place for cottage families and visiting mission teams to come together for conversations, s'mores, or a quiet place to think. Finally, the old library-turned-storage-building is being remodeled to add three separate apartments that will house students returning home to Boothe Campus on college breaks.
Mike Perkins, Director of Maintenance at Homes for Children, and his team are working to bring the project to a reality. The playground portion of the plan is complete, and the foundation of the prayer garden has been poured and the bricks laid in the fire pit. The former library is well on it's way to becoming a refuge for young adults; plumbing is installed and the interior walls are going up. The undertaking is on schedule and should be finished by the end of this year.
Jeny Cortez, Director of Development and curator of Ladies for the Least, describes the purpose as, "A platform to bring together women who have a heart for children and families, as well as educating ladies on the programs and resources that STCH Ministries provides. It is not just about raising money," she explains. "We are looking to gain their involvement in ways such as: volunteering, promoting within their own networks, and participating in activities."
The next Ladies for the Least annual luncheon is scheduled for March 30, 2019, in Houston. For more information about how you can attend and become a voting member, please contact Jeny Cortez at jcortez@stchm.org.
0
0
Alisha Holt
https://www.stchm.org/wp-content/uploads/2020/02/header-stchm-logo.svg
Alisha Holt
2018-10-09 16:27:52
2020-03-16 15:12:16
Ladies for the Least Special Project Nearing Completion