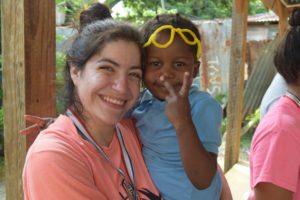 Several young people and staff from STCH Ministries Homes for Children formed their own unique mission team last week—ministering to children and young people in the Dominican Republic. At the end of the trip they shared, "We loved the entire week."
It was humbling, eye-opening, and "mucho caliente" (very hot) as they rebuilt a home for a Samuel's Fund family. They also conducted VBS and spent some time at the Monte Plata orphanage where they gave manicures, baked, played with children, and shared their testimonies. When Ramon Prensa, founder of the home, shared his story, the STCH Ministries team marveled at the similarity between his faith journey and Laura Boothe's journey to begin a children's home in South Texas so many years ago.
This mission trip was especially unique for Patty Kinnamon, commissary supervisor at Boothe Campus. In 2007, Patty and her husband Marvin were houseparents and took part in one of our first mission trips to the DR. At the time, we did not have the infrastructure that our teams now enjoy, and the trip was a difficult experience. Over 100 children spoke in high decibels and all at the same time in Spanish. Tropical sun and heat, primitive conditions, along with a typical native diet of boiled green bananas and salami, altogether the circumstances created a significant level of culture shock for the team.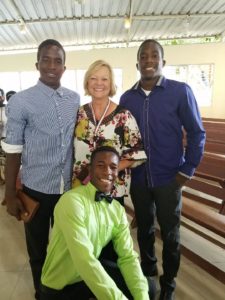 On the trip, Marvin had the responsibility of supervising the boys' cabin at a summer camp. When he tried to get them to stay in their beds, one child threw a shoe at him and the rest impetuously joined, pelting him with their shoes. Despite his best efforts, he found the boys to be unmanageable. Marvin came away with the feeling that he just couldn't get through to these children.
In 2015, Marvin Kinnamon passed away and moved his permanent home address to Heaven. He is still greatly missed by all of us at STCH Ministries.
When Patty returned to the DR, she was re-introduced to Victor and Argenis Berroa, twin brothers who participated in the infamous shoe assault directed at Marvin. Today they are Godly young men, leaders in the IBQ church, helpers for our mission teams, and recipients of CLEP scholarships for their university studies.
"When did you give your lives to Christ?" Patty asked.
"In 2007," they answered.
For a minute Patty was wistful. "I wish Marvin could have seen this fruit from our efforts that seemed so hopeless back then." Then she reflected, "From his perspective, I know he already does."
One plants, others water and cultivate, but always God's Spirit germinates His Word and brings forth changed lives and eternal life.
"And let us not grow weary while doing good, for in due season we shall reap if we do not lose heart." Galatians 6:9, NKJV
https://www.stchm.org/wp-content/uploads/aDSC_0467.jpg
1707
2560
Joanna Berry
https://www.stchm.org/wp-content/uploads/2020/02/header-stchm-logo.svg
Joanna Berry
2018-06-15 10:34:13
2020-03-16 15:16:19
Reaping with Joy