"The Bible is alive, it speaks to me; it runs after me; it has hands, it lays hold of me."—Martin Luther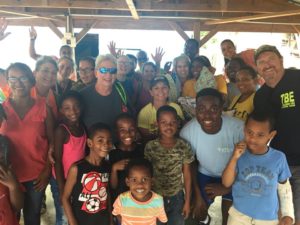 We may know a lot about the Bible.  We believe God's promises.  We memorize verses and repeat sayings like: "Prayer changes things," "With God all things are possible," and "I can do all things through Christ."  Perhaps the greatest benefit for mission trip participants happens when those words jump off the pages of our Bibles and are actualized through our experiences and our heightened dependence on God.
FBC Newark, FBC Canyon Lake, and FBC Corpus Christi joined Dr. Shane Scott and his family from Mississippi, to form possibly the most diverse mission trip of the summer.  A few days later, the veteran teams from FBC Kenedy and Trinity Baptist Church in Kerrville were joined by newcomers from Oak Ridge Baptist Church in Portland. Both mission weeks were full of opportunities to live out God's promises.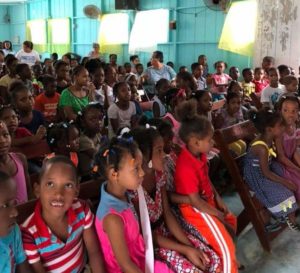 When the estimated VBS crowd of 200 swelled to 325 children, the verse "my God will supply all your needs" became very real for the Oak Ridge team.  Somehow the VBS craft and refreshments stretched, and with the STCH Ministries International team and translators leading the way, the group celebrated a God-sized victory.
Pastors from the teams also led a day-long conference for Dominican pastors.
The previous week Pastor Brian from FBC Corpus Christi preached two sermons on Sunday, while others stepped up at the last minute to teach men, women, children, and teens at the Saturday evening Family Fiesta.  The team rushed back from their market-beach day and in record time took up their positions to serve hot dogs to the crowd. The verse "I can do all things through Christ" provided wisdom, energy, and stamina.
"With God all things are possible" proved true for inexperienced hands with no construction experience, who felt overwhelmed.  Moments later, they held drills, used electric sanders and routers, and made 15 bookshelves for schools.  The same promise foretold the resulting two-story home built for a Samuel's Fund family.  Both experienced workers and greenhorns were joined by the family in a marathon construction endeavor.
Every mission team spends some time at one of the orphanages that STCH Ministries helps to sponsor. Teams took the Monte Plata children to see the underground caves, treated the Higuey orphanage boys to an outing at the aquarium, then shopped for shoes.
Another team packed an overnight bag and loaded on a bus to the Santiago orphanage.  Within minutes of arrival, they crossed the street to "love their neighbors as themselves." Some taught and others played with the children. Some held babies, fed them, and changed their diapers.  So many beautiful children, so few workers, so little hope for their future opportunities. The experience profoundly impacted the team.  In a country with legal issues, a lack of resources, and a flawed concept of child care, there seems to be an impenetrable barrier for change.  Except…except we believe "prayer changes things."
The question becomes: Will that promise jump off the pages of our Bibles?  Will those words run after us, become hands that lay hold of us?   In spite of our busy, scheduled lives here in America, can we remember to faithfully pray, believing that prayer WILL change things?  These children and many more depend on those prayers.
https://www.stchm.org/wp-content/uploads/36037848_2120495067979458_7780127373151698944_n-e1530041506830.jpg
628
691
Joanna Berry
https://www.stchm.org/wp-content/uploads/2020/02/header-stchm-logo.svg
Joanna Berry
2018-06-28 06:35:31
2020-03-16 15:11:36
Journal Wonderings