Crossbridge Fellowship Church brimmed with contagious energy earlier this year as a group gathered to prepare for the spring semester of Jobs for Life (JfL) in Corpus Christi. With beaming faces, and a few heartfelt tears, alumni and volunteers of all ages and backgrounds shared inspiring stories of how Jobs for Life had changed their lives and homes.
For RC, who graduated from JfL in the fall of 2017, this meant ending a life-long struggle and finding new purpose.
"The hardest thing was being real with myself," RC shared. "I always wanted to be a people pleaser, but JfL helped me define myself more and grow in my relationship with God."
RC now volunteers in the JfL office and serves as an ally to encourage women enrolled in the program.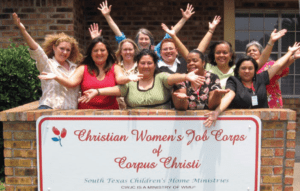 In February 2008, STCH Ministries first began offering job and life-skills classes in Corpus Christi through the Christian Women's Job Corps program. In 2014, the name was changed after adopting the Jobs for Life curriculum, and the main program hub was relocated to CrossBridge to help STCH Ministries better meet the greatest needs in Corpus Christi. The twelve-week program continued its focus on helping women become more self-sufficient but recently began offering men's classes as well. In the fall of 2016, one component of Jobs for Life called Faith & Finances grew to become a new, separate program at STCH Ministries.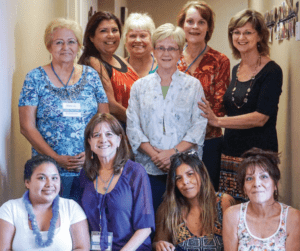 Jimmy Rodriguez, Director of Jobs for Life and Faith & Finances for Corpus Christi and San Antonio, is grateful for the strong partnerships JfL has established over the past ten years with individuals, churches, businesses, and local community resources. As a ministry that is primarily volunteer driven, these partnerships are critical to success.
"Nothing is more important than relationships," Rodriguez said. "Our relationship with Oak Park Elementary School in Corpus Christi led to a recent invitation to set up an information booth at a PTA meeting. Fifty women signed up that night as interested in participating in Jobs for Life!"
Through partnerships like this, STCH Ministries Jobs for Life now exists in Corpus Christi, San Antonio, and Houston, and the program continues to expand. The first Spanish-speaking class took place last year in Houston, and an evening coed class began at CrossBridge in Corpus Christi this spring with an emphasis on business and ministry building.
Joanna Berry, Vice President of Family and International Ministries, looks forward to what the upcoming year holds.
"All of our ministries are joined in a type of symbiotic relationship with local churches in their ministry to families," Berry said. "Our priority this year is to continue to develop and refine the Jobs for Life program and methods so that it becomes a more viable and effective outreach tool for churches that want to help the needy and broken but have mostly been limited to food pantries and clothes closets in the past. There are so many diverse opportunities for volunteers to deeply impact the lives of women and men through Jobs for Life."
To learn more about participating in or volunteering at Jobs for Life, go to www.STCHM.org/JfL.
https://www.stchm.org/wp-content/uploads/Screen-Shot-2018-02-12-at-2.41.54-PM.png
542
850
Communications
https://www.stchm.org/wp-content/uploads/2020/02/header-stchm-logo.svg
Communications
2018-02-27 07:04:47
2020-03-16 14:24:18
Celebrating Ten Years of Jobs for Life